If you are a long time gardener, you will remember the days when impatiens used to grow to two and three feet in height. I have been admiring some impatiens on the corner of one of the streets that we go by almost daily and just had to stop to take a photo. They appear to be those very same impatiens.
I first saw them in Florida many years ago and then they disappeared. These beautiful plants were used as borders in front of every condominium complex, private home and retail mall parking lot on the key at the time. In fact, our local Publix shopping center used to be called 'Avenue of the Flowers' and truly, there was an abundance of these beautiful flowers.
Sadly, all those lovely borders have been replaced by perennial shrubs and hedges.
But then, the days of flowering borders were also the days when there was grand piano, with a real piano player, inside Publix just after you entered the store. Really, you used to be able to buy chateaubriand, grilled asparagus, crab cakes, twice baked potatoes, etc., all at the deli counter.
Anyway, these beautiful landscaping gems were one of the reasons why we decided to buy property on the key so long ago. The key was truly beautiful, not that it isn't today, but it was just so breathtaking back in the day.
This array of color was also the reason that I decided to use these 'giant' impatiens as borders for all my gardens. At their peak, and because I kept making new garden beds each year, my annual planting included 48 flats of impatiens at 64 plants per flat. I had a lot of garden beds!
I remember one year when my gardener exclaimed that my front garden was the best he'd ever seen it. That was the year that we planted pink impatiens in among the shrubs in the front gardens. The shrubs were much smaller then so we could plant two thirds of the way up the gardens to the house. Can you picture this scene? He even said, we should take a picture.
Do you think that I have even one picture?  Not a one!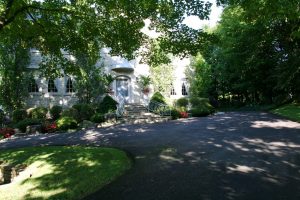 C'est la vie.
One thing for sure, nothing stays the same when you are gardening. Annuals which performed brilliantly for years all of a sudden stopped. This is what happened to these glorious impatiens. From one season to the next, the plants became weak and rarely even grew to 12 inches in height.
In the meantime, the gardens and the shrubs and the trees started to mature so full sun gardens started turning into shade gardens. More change.
Even though I don't have these gardens any more, I'm still happy to see that these beautiful plants are back, they bring back good memories.