For this party as for many others, I planned around one of the courses I was going to serve. A course usually sets the tone for the rest of the menu. In this case, the main course was going to be lamb shanks. A favorite of one our guests, definitely one of our favorites and thus far, a favorite with all of our guests, whenever we have served it.
I always use the Provinçal Style Daube of Beef recipe from the cookbook by Escoffier. It is a two day effort as the shanks should be marinated the night before, but planning makes just about any task manageable.
So the dinner took us to Provence in the south of France. I did not create any new nibbles. and certainly they were not French, but you need something with a glass of wine. However, the appetizer was a wonderful tomato galett, and dessert was something that I had not made in many years. Here's the full menu:
Appetizer
Main
Cheese Course
Baked Camembert with Brown Sugar
Dessert
Indian Mango Ice Cream
(Compliments of our Guests)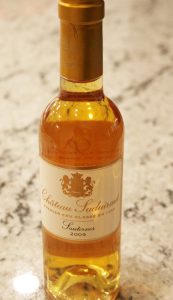 As our guest's home destination was literally across the road, we enjoyed some pretty good Pinot Noirs and a half bottle of an outstanding 2009 Premeir Cru Château Suduiraut sauternes.
I steadfastly refuse to give up on socializing with friends and family within our social bubble…I think that that is still allowed. So, I continue to invent occasions where we can invite another couple and have a night of what used to be normal. Eat, drink, and be merry! Also, a little speculation of things to come. Love the lively conversations and varying views!