This is the Cluny Bistro in the Distillery District in Toronto.
We don't go there often, but when we do, I always feel good about being there. I like places like this, they make me smile. I like the décor, I like the large bucket of bottles of Champaign on ice, I like the food and I like the atmosphere.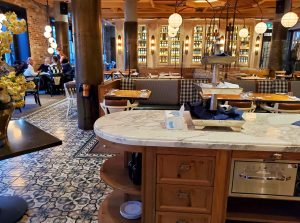 We are creatures of habit, we like French, and Cluny is a large French Bistro. They also serve the honest to goodness French omelet of fame on week-ends, and steak tartare, steak frits and other sundry French dishes all of the rest of the time.
In fact, we both ordered steak tartare for lunch.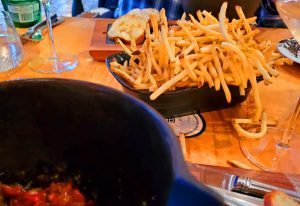 I make an excellent Steak Tartare, but I never shy away from trying the newest restaurant re-inventions of this dish. This version was hand minced beef served in a deep stone bowl and mixed at the table. Our focus this time however, was the basket of shoe string fries that we ordered to share. Good thing we didn't order a side portion for each of us!
Cluny is just a good place to while away an hour over lunch and chat. Part of the plan was to amble about the streets in the Distillery District and check out the Christmas Market booths and of course the giant Christmas Tree, but just as we stepped out the skies opened up, so we ran to our parking garage and made our way home instead. Not exactly a perfect afternoon, but it was a perfect lunch.
We'll go again before we head south, but on a week-end this time so I can order that incredible French omelet, or maybe the Short Rib Hash….
If you go, don't forget to stop at their Boulangerie on the way out for some wonderful crunchy bread and buttery flaky croissants.