My husband's grandmother's name was Belle. Great name. She created the original version of Lightning Cake, hence Belle's Lightning Cake. This cake was a standard at most holiday celebrations and birthday's hosted by my mother-in-law. My husband and each of his two brothers claimed it as their favorite so it was worth trying to re-create it. I made four versions of this cake, my own from my memory of various events, the second from Belle's long lost recipe with my changes, a third, exactly as written, and finally, this version, which my husband and I agree is the closest. Try this last version, but I have also included the original version below.
Ingredients
Cake
1/2

cup

unsalted butter

room temperature

1/2

cup

sugar

2

whole

egg yolks

6

tbsp

milk

1

cup

sifted flour

1

tsp

heaping baking soda

dash vanilla extract

pinch of kosher salt
Meringue
2

whole

egg whites

beaten stiff

1/2

cup

sugar
Filling
4

oz

semi-sweet chocolate chips

1/2

cup

heavy cream
Instructions
Gather all ingredients before starting the recipe.

Pre heat oven to 350°F
Cake
Trace the outline of a 8" or 9" baking pan on parchment paper and cut out the rounds. Make 4 rounds in total and use 2 rounds to line the caking pan with the parchment. Reserve the other two rounds for the meringue.

Separate eggs, keeping egg whites in a separate bowl.

Add egg yolks, sugar and butter to a medium sized mixing bowl and beat until light and fluffy, about 5-6 minutes.

Sift in flour, baking soda and a pinch of salt.

Add vanilla and milk and mix until the batter is fully mixed, about 4-5 minutes.

Measure about half of the batter for each cake pan and place a dollop in each pan.

Spread the batter right to the edges of the pans and place in a pre heated oven for 20 minutes or until the edges start to become golden.

When cool, cut around the pan edges to loosen the cake, then turn out to baking sheet turned upside down. Carefully remove parchment from both cakes.
Meringue
While the cake is baking, whip the 2 remaining egg whites until frothy.

Gradually add 1/2 cup sugar until the mixture forms stiff peaks.

Place parchment rounds on a baking sheet and spread the meringue on the rounds, going right to the edges. Try to keep the level consistent for each round.

Place in a pre heated 350°F oven and bake for 20-22 minutes, or until the top has a light blush color and sounds hollow when gently tapped.

Remove from the oven and allow to cool completely.
Filling
While the meringue is baking, measure out 4 ounces of semi-sweet chocolate chips in small bowl.

Measure out 1/2 cup of heavy cream in a measuring cup.

Transfer cream to a microwave and heat on high for 1 minute, then check. Cream will rise very quickly when it reaches boiling point, so watch the cream carefully after the first minute. Once the cream starts to bubble around the edges, remove from the microwave and pour over the chocolate.

Allow to sit for about a minute or two, and then gently stir until the chocolate is fully melted and creamy.
Preparing Layers
Allow the ganache filling to cool, 4-5 minutes, and then spread an even thin layer on each cake round while still on the baking sheet. Transfer to your refrigerator and cool for about an hour.

After an hour, spread another thin layer of ganache on each cake and cool for another 30 minutes.
Assembly
Transfer one cake round to a serving platter.

Top the bottom cake layer with one round of baked meringue.

Top the meringue with the second cake round and the second meringue layer as the top layer.
Author Notes
We all remember chocolate with this cake, but by making it using the original recipe, I could only add one layer of chocolate, and that was on the middle layer of meringue. I never did see my husbands mother make this cake, so I don't know if she followed Belle's original recipe to the letter,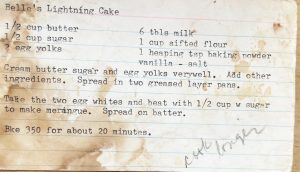 but if she did, than this may very well have been the recipe she followed. She probably added the chocolate layer in the middle. I will make my version for our next family get together and collect the votes from the 'boys'.