I have a love of French food. I love everything about it. The timelessness of the recipes, the techniques, the blend of flavors, the presentation, everything.
It was all started by a friend who had lived in Europe for several years and loved to cook. I caught the bug from her. She particularly liked French food and had enjoyed it all as her husband had held an embassy position while in Europe. While living abroad, they frequently attended both private and embassy dinner functions so they had many opportunities to enjoy incredible French cuisine!
Also, French cuisine was very popular in the city then, and between dining at the newest and latest French restaurant, both here and in Europe, plus studying recipes, I started to cook French cuisine.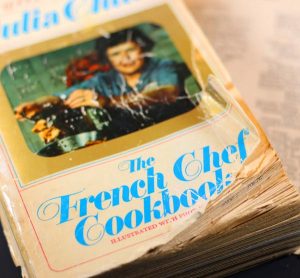 Originally, my go to cookbook was Julia Child, the French Chef Cookbook,  I still have the dog eared paperback.
However, I wanted to learn more about the origins of French cooking, so I started to read and study books by chefs like Auguste Escoffier and Raymond Oliver.
For a few years  incredible cookbooks, written by highly acclaimed French chefs like Joel Robuchon, Raymond Blanc, the Roux Brothers, would regularly arrive as either hostess gifts at our dinner parties, or Christmas gifts from family and friends. I always asked myself, is this a cue to ever increase my French culinary repertoire? Of the 200 or so cookbooks that I had until recently, I saved maybe 20 to 25 books.  Of these cookbooks, two or three are Hungarian, one Indian and one Canadian, and all the rest are French.
If you look at the 'Cuisine' section at the top of my recipes you will often find 'French'.  Chicken in Tarragon in White Wine and Tomato Sauce is one of these. This recipe is classically French in origin, right down to the use of tarragon. This makes it a favorite of mine, and for that matter, all recipes with tarragon as an ingredient are included in my all time favorite recipes.
As with most recipes, you can dress up Chicken in Tarragon, White Wine and Tomato Sauce by pureeing the sauce before serving, or leave it unstrained and serve it as a rustic dish. One last step to finish and you can serve it to your guests, or leave it and serve it to your family as a week-night meal.
Casual or sophisticated, it is delicious. I particularly like it with pasta, whether homemade spaezle or even macaroni. It is pretty, savory, silky smooth, French, and worth the extra effort to make it special.