Sage, in my opinion, is a true first-class restaurant and it's in Sarasota.
It is housed in an historic building which was originally the home of the Sarasota Times starting in the year it was built in 1925. Much later the building was also home to another restaurant called Ceviche, a place known for live music and lots of drinks and lots of people.
We wanted to try Ceviche in its hay day, but somehow never made it.
After Ceviche, the building was boarded up and vacant for a few years, until it suddenly reappeared, all shiny and bright new as the restaurant called Sage.
It's on 1st street and it's hard to miss when you're on your way, anywhere really, in Sarasota. We went by this location so many times and always said we would have to try Sage.
Finally, we tried Sage.
Our first pleasant surprise was that Sage offers free valet parking. How very convenient!
We did make reservations for a Thursday night not knowing how busy weekends might be. It probably wasn't necessary as Sage has two full floors for dining, with the third floor for private events and a separate roof top lounge. Lots of space, but I like to reserve as a courtesy (and cancel if something comes up).
The restaurant is spacious, light, and beautifully decorated. A modern version of an upscale steak house.  No dark woodwork but lots of exposed beams and good lighting. The cutlery looks like pewter, not shiny as we are used to seeing.  An interesting touch.
Our server for the evening showed us to our table and presented us with the menu. On this night we sat on the mezzanine level, overlooking the main floor dining area. We were seated at a table for two, but there were twos seated at tables for four. An interesting view as you overlook the main floor dining room.
We mentioned to our server that this was our first time at the restaurant and she welcomed us and said she would be happy to answer any questions we had about the menu. We found her knowledgeable, polite but not overly friendly. This is not a bad trait, sometimes too friendly is too much.
We had checked the menu online and noted some interesting appetizers and entrées, but as we are lovers of foie gras, the Foie Gras with Curried Apricot Puff Pastry, Brown Butter Gelato, Caramel and Roasted Pecans immediately caught our attention. This is the dish that is featured in this post. And partly because the appetizers looked amazing, we decided to try 2 appetizers versus an appetizer and an entrée.  We have done this quite often as the portion sizes are small and the variety is usually good.
Surprisingly, dinner service started with an Amuse Bouche, typically a small complimentary bite created by the chef.
If I had anything to say t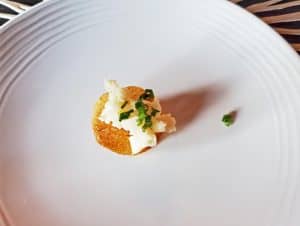 hat was less than complimentary, it would be that while an Amuse Bouche is meant to be one bite, this bite was so tiny that it was almost impossible to pick up. When we asked for bread, we were told that the chef does not serve bread with meals as much of it was being thrown away and he thinks that this is a waste, so instead he offers the Amuse Bouche. I would almost venture to say that another reason for not offering bread is that many people fill up on bread and then can't eat the food they order.
I know that I try to limit the number of hors d'oeuvres at our own dinner parties as I also feel that they can fill up my guests, and then all my hard work to create a perfect meal can go to waste.
Service is good and professional.
Anyway, service is good and professional . When you have finished with a course, your plates are removed and cutlery replaced, if necessary.
My first appetizer…
We both ordered Foie Gras with Curried Apricot Puff Pastry, Brown Butter Gellato, Caramel and Roasted Pecans and agree that this is probably one of the best renditions of foie gras we have ever tried, and we have tried many. The portion size is just perfect and the combination of the sizzling hot foie gras is perfectly complemented by the ice cold brown butter gellato. This dish is outstanding!
Foie gras lovers must try this dish at Sage. They do change their menu seasonally, but we were assured that there would always be some other equally delicious rendition of foie gras on each of their seasonal menus.
My second appetizer…
After nearly licking my plate clean from my first appetizer, I chose Stuffed (rustic) Tortellini in Brown Butter Sauce with Prosciutto, Truffled Pecorino, and Parmesan as my second appetizer.
It was delicious. The rustic is my addition as I found the pasta to be a little chewy. When I have make pasta, I try to make it as thin as possible so that it's light an airy and cuts with a fork. But I did some checking after having tried this dish and found that in general, a 'good pasta will have a chewy texture that has a bounce to it when chewed' and this dish fit this description perfectly. Live and learn.
We have eaten at Sage twice now.
We had such a good experience the first time that we ate at Sage, we thought we would go back.  But this second time, order an appetizer and try one if their entrées. We had the same server, who remember us and what we ordered the previous time, nice touch.
Of course we chose the foie gras again for our appetizer but I decided on their signature Thai Bouillabaisse with Coconut Curry Sauce, Lobster, Shrimp, Scallop, Cod and Forbidden Rice for my entrée.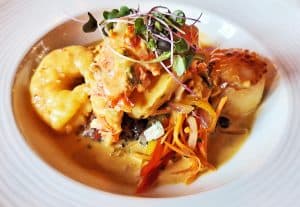 In addition to the very generous portions and variety of seafood, the dish is served with a medly of julienned vegetables including leeks and peppers, all in a saffron scented creamy green curry sauce . Very satifying and a portion which I could not finish. I am afraid that my eyes were much bigger than my stomach. I would say that most people could finish this dish, just looking around us, not many plates were going back empty.
Would we go back?
Overall, I think that Sage is a first class restaurant. It hits all the marks for me in the 'fine dining' category, not that I crave fine dining each and every time we go out for dinner  bit it's nice to have a couple of choices. We will definately go back next season. This restaurant is strong competition to Maison Blanche, another fine dining retaurant that we enjoy.
And one last note. I have mentioned in previous posts regarding other Sarasota restaurants that some chefs seem to struggle with either identity or appear to be induly swayed by their customers. I must say that Chef Chris Covelli suffers from neither. He cooks as he wants, what he wants and for me, this is success.