There are a countless number of places to go out to eat but some stand out because of the service, the servers, the ambiance, and of course, the food. I would say I would rank most restaurants based upon these four factors and probably in this order of importance, most of the time.
Libby's is fairly high on my scale, and it's also a good place to go on a Wednesday.  One reason is that they have a fairly generous list of wines which they sell at a two-for-one price on Wednesdays. The others are the ones that I mentioned before. As I have written in previous posts about restaurants, we tend to frequent a select list of places which have something that is special or different on their menu and is worth ordering pretty much each time we eat there.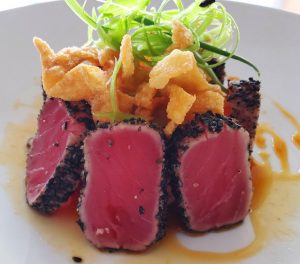 In Libby's case this is the Tuna Tataki for me. There are certain recipes that I have not tried at home and really don't have any desire to do so. Seared tuna is one, not that it's complicated, and you can make it ahead of time and serve it chilled, it's just that it's a little fussy for two and not a real natural for a dinner for four. You never know how your guests are going to react to 'raw' tuna, and as with anything else that is worthwhile, it's the sides and the garnishes that make the dish. In this presentation, let me count. 1)The spring onion, sliced and then dropped in ice water, 2) the fried wonton strips on the top, 3) the black sesame seeds, toasted and then used on the tuna, 4) the guacamole salad (with its own 4 or 5 ingredients) in the center of the dish and finally, 5) the ponzu sauce (ditto with its 4 or 5 ingredients). That's 5, plus.
Tuna Tataki at Libby's is just great for me!
My husband enjoys Joe's Iron Skillet Meat Balls. They're delicious, hot and saucy.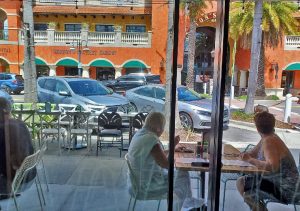 And there is a bonus. It's called Morton's across the street. A great gourmet deli if you are looking for a variety of good cheeses, or the best home made croutons in the whole world or pomegranate molasses or some other uncommon commodity not easily found at your local grocer.  Just a couple of local places we go to while on the Suncoast.