I know it's been more than eight months since we have seen my husband's brothers and wives… wow that's almost a whole year!
I'm sure that we are not unique in this, many others are in the same boat. Of course, we did stay in touch via Zoom and emails, happy birthday wishes, text messages, but in person is always better.
It hasn't only been family, but also friends who we hadn't seen in months.  A small tradition started with our first dinner party with friends as it was the first time we could meet indoors. This was to open a bottle of Champaign to toast to our collective good fortune and our good health. We've had a few bottles of Champaign over the last several months and more is on the horizon as we still have a bit of catching up to do!
We decided to carry this new tradition forward when my sister-in-law Anne, the collector of many beautiful hand painted Italian pottery of jugs, bowls and plates, generously hosted a family get together this past week-end.  So we brought a bottle of Champaign to celebrate seeing each other again, and after toasting to everyone's good health and good wishes to all, we moved outside to Anne's lovely garden to catch up on all the news.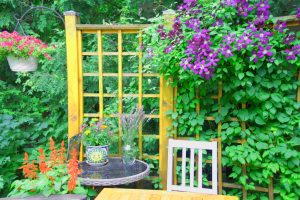 Anne started the evening by serving several small plates including prosciutto, a mild Italian salami, brined olives, salsa and chips and crudités. We chatted, nibbled and caught up.
We talked of road trip plans, finally being able to return to the gym, about their kids now adults, and what they have done with their lives during these last 18 months and where we all will be in October and November and even later this year. Family stuff.
Then the BBQ was fired up and the good aromas of grilling started wafting through the air and it was time to gather up the plates and glasses and head indoors for a delicious dinner.
As we went into the dining room, I admired Anne's table as she had set it with a really cheery and colorful table cloth, contrasting napkins and the most beautiful hand painted Italian dinner and side plates (part of that extensive collection I had mentioned before) and large platters and bowls of delicious food, all served family style. A real feast for the eyes.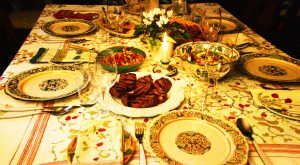 We had clasic BBQ fare with grilled sirloin steaks, lamb chops, grilled Italian sausages, a delicious side dish of Paul's potato salad and Anne's citrus salad. All with some good crusty bread. Dessert was a plum cobbler, warm and toasty from the oven.
Of course, any time anyone hosts such an event, it is always appreciated. No matter how simple the menu, simple isn't all that simple. You first have to create the menu, then of course shop, cook, plate, present and then clean and put away again. Whew! Was there as chance to take a breath in between?
It was good to catch up, we'll be in touch soon as we are back and we all have time to catch up again.