Quebec City is a bit like San Francisco in that like San Francisco, Quebec City is very hilly.
In addition, and unbeknownst to us, the city is also split in two. There is an 'Upper Old Quebec City' and a 'Lower Old Quebec City'.
When we were planning our stay, we had only looked for a boutique hotel that was located in the 'Old Quebec City' center.  The location of our hotel turned out to be in the lower section of the city.
Upper Old Quebec City is almost 200 feet above the lower section. It's rather a daunting trip to reach the upper section as you have to climb on nearly vertical streets to get to the upper city section.
We did actually make this trip, once. And in all fairness, there is a funicular that is available just to solve this inconvenience, but we took cabs after that first uphill jaunt. This is normally 5 minute cab ride, but unfortunately, the whole of Old Quebec City was under construction during our stay, so a normal 5 minute (uphill) ride turned into a $30.00 cab fare with all the detours that we had to take. Live and learn.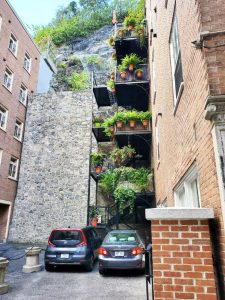 To give perspective, the above photo is taken from street level in the lower section of the city.  The upper section starts above the tree tops. This of course is above 4 stories of balconies, a slope down to the road and the giant retaining wall between the buildings.
All of Old Quebec City dates back to the 1600's and all of the buildings are from the era. The city is beautiful and reminiscent of many European cities. Many of the buildings house boutique hotels and restaurants, all having been renovated and restored, many built into the hill sides of the city.
Our hotel, Auberge Saint Antoine, dates back to the 1600's and in fact is made up of three separate buildings. These buildings have been  seamlessly merged, except for the winding hallways and slight slopes up and down, but the hotel is very pleasant.
We had a suite, and the hotel staff felt that it was one of the best in the hotel. The suite was definitely in one of the original sections of the hotel, complete with a winding staircase at the entrance to the suite from the hallway. Once inside, the rooms were renovated exposing the original beams with ceilings, at all different heights and angles, indicating where the rooms were joined. A little too rustic for our taste so we would opt for one of the more modern rooms the next time.
Stepping out of the front door of the hotel, we were across from a park right on the St. Lawrence River in one direction, and a short distance from a bustling restaurant and shopping district in the other direction.
A shame that we only discovered this area the day before we left, as we found a lovely bistro called Echaude within 5 minute walk and had a wonderful lunch there.
Echaude is a real French bistro, much as you would find in Paris. It was filled with people, amazingly having three course lunches along with a bottle of wine. The French do it right somehow.  We spent a lovely couple of hours chatting and had a lunch of steak tartare and frits, some lovely Quebec cheeses, and finished with a café crème. Then we strolled along rue Sault-au-Matelot, nice.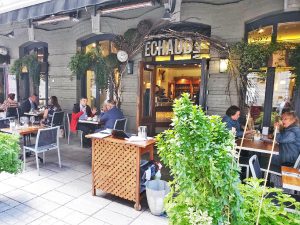 Earlier during our trip, we also enjoyed a couple of fine dinners at two old world restaurants. These were at Le Continental and St Amour, both in Upper Old Quebec City, hence the cab rides. Both restaurants are very traditional in both ambiance and service, and the food was predictably classic French fare.
I could not stay away from foie gras so I'm sure I had it in one of these two places. The foie gras is on the left, still sizzling hot when it was served, and believe it or not, the dish on the right was roast pheasant with a garnish of chestnuts!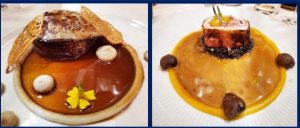 It's funny how you discover the best parts of a trip on the final days of the trip. We spent a couple of days cabbing to the upper part of the city for dinner, while in the end, we would have been just as happy to stay closer to our hotel and walk to equally interesting places for lunch and dinners out.
As it turned out, our best restaurant find was Chez Muffy, and this was at our hotel. We knew that the hotel had a restaurant, and we did try to reserve the day that we arrived, but the restaurant was fully booked for the entire time of our stay. But as we were on their waitlist, we were actually called on the final day of our stay and so had a chance to try this wonderful restaurant.
I had already booked elsewhere, but creatures that we are, staying close to home won as we had been traveling up and down the mountain for our stay to the last day. I cancelled our booking elsewhere and accepted the reservation at Chez Muffy for our last night in Quebec City.
When we entered the restaurant, I was a little surprised to see that the restaurant was just about half full. It became evident as the evening wore on, that the restaurant was consciously limiting the number of reservations to ensure that each table would receive the best service with the most experienced staff available that night. Staffing seems to be a common dilemma for most restaurateurs and rather than disappoint clientele, some only accept as many reservations as they can handle with the staff that they have.
In retrospect, if I were to have a complaint about Le Continental and St. Amour it would be they were under staffed for the full restaurants that we saw on the nights that we were there. This made the service slow. They could have used additional staff for the reservations that they had.
The menu at Chez Muffy is simple, they only offer four courses, with optional wine pairings for each course. We chose to go with the wine pairings, which were all Quebec wines. Some were great, some not so much.
Dinner starts with what they called canapés and it was off menu; it was a trio of very small bites nicely presented in a lidded wooden salt container (minus the salt and substituted with dry kernels of corn) and a stone bowl. Just interesting and pretty.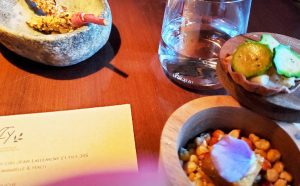 The Amuse-Bouche followed the canapés. I can't remember exactly what the mousse was, perhaps a mousse of green peas, but it was garnished with prosciutto and baby potatoes.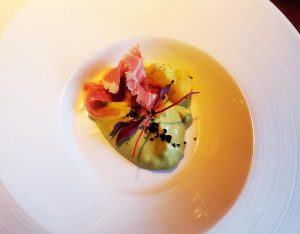 This course was followed with the Appetizer, which was Tuna Tartare on a slice of Potato Rosti. The garnish was creamy egg and a fir jelly.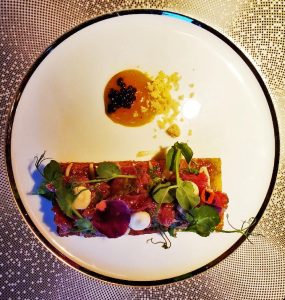 The Appetizer was followed by the Main Course which was grilled suckling pig, sweet creamed corn and a corn taco filled with lobster mushrooms and grilled apples, topped with apple barbecue sauce.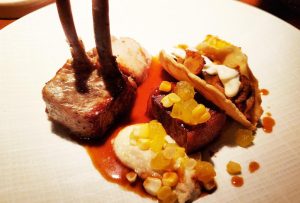 And finally, Dessert. This included grilled peaches and apricots topped with a green tea sorbet. I am not a dessert lover, but this dessert was exceptional and one of my favorite courses.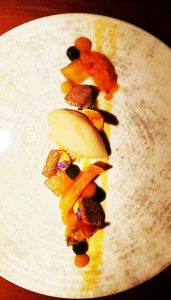 Interestingly enough, we finished each course, and this is unusual. The portion sizes were just right and the pace of the service was perfect. We never seemed to wait for the next course, but just when we were ready, the next course arrived. These intervals gave us enough time to finish our wine pairing and settle a bit before the next creation was presented.
We went to Quebec City to have a few good French meals and to immerse ourselves in a different environment after sticking so close to home for so long. We were not disappointed, and having been there once, we may do some things differently for our next trip. We would try different restaurants and bistros the next time, perhaps a hotel in the upper section of the city, but we would definitely go back to Echaude and Chez Muffy. All in all, armed with a few tips from our experience, I would definitely recommend a week-end visit to our La Belle Province, it was worth the trip.