Fridays, this season, as well as previous seasons, are typically allocated as catch up days; catch up with groceries, the wine shop, book store, hardware store and just about anything else which I would label as 'outs and abouts'. After the million stops and when the chores are done, we treat ourselves to lunch someplace good, different or familiar.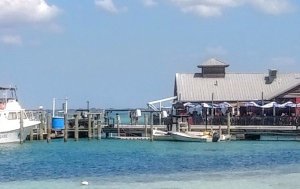 The Salty Dog under New Pass Bridge is one of the our lunch stops. I usually have the Lobster Roll, my husband the hot dog. Their Lobster Rolls are the very best ever! Lots of places serve lobster roll, but none like this. No mayo, just a bit of celery, and I think the natural brine from the ocean, a bit of slaw on the side, and I am happy!
I have often threatened to get 2 lobster rolls to go and then make some some wonderful lobster recipe. Two rolls would certainly feed 4 for dinner and 6 as an appetizer.
My husband, and a lot of other guys who eat there, think that the hot dog is also pretty good.
You definitely have to seek out the Salty Dog.  If you're a guy, have the hot dog, if you're a gal, have the lobster roll, it's a treat!