It's New Year's Day, let's go out to brunch!
We were early, maybe 11:30, and it seemed that many people had the same idea.
Loved every minute of being in a space (properly distanced) with other people who were out for New Year's Day Brunch. How normal!
This is our usual table at Libby's, but we gave it up (they got there first) to a group of 10, oh well, we were only two.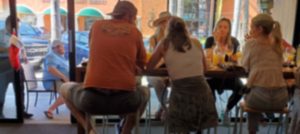 As the morning progressed, only the couch was left for lunch.
And then lunch…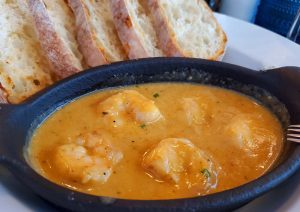 This is my new favorite, White BBQ Shrimp. A southern dish for sure, spicy, not too thick, salty, creamy and delicious. But, I could not get the recipe! So, I am on a quest.  Either we go back on a slow day and ask again, or I try to figure it out. I think, the Holy Trinity, white wine, Cajun seasoning, cream and maybe more. I'll keep you posted.
Have a Happy New Year!
P.S. that's my very handsome other half, I was taking the photo!