I made two versions of North Western Chowder, which is one of my absolute fish dish favorites.
The first one is fun and pretty and casual and it's North Western Chowder and Fries, and the second one is this North Western Chowder Vol-Au-Vent, or the chowder in puff pastry shells.
The main ingredient of course is the chowder, and you will find the full recipe for this with the chowder and fries recipe. It is really good and perfect for lunch.
This second version or the Vol-Au-Vent version is more versatile. It can easily be used for a special lunch or even dinner with friends, an appetizer, or even as hors d'oeuvres. I used two sheets of puff pastry and made the vol-au-vents quite large.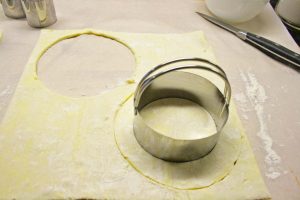 In fact, I used a small bowl as the template to cut out two rounds and then used one of the larger forms I have to cut a rim from a second set of rounds. The idea is to make a vessel with a base and the sides are from the second set of rounds. When you bake these, the puff pastry rises and forms the vol-au-vent.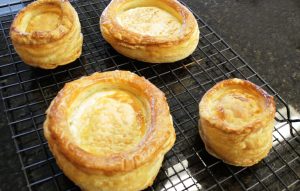 Since I had some puff pastry left over, I made a couple of smaller ones, which is probably a good size for an appetizer.
The nice part of this version, is that both the chowder and the puff pastry shells can be made ahead of time. In fact, I froze at least half of the chowder from a previous lunch and found that it did not suffer at all from a gentle reheating. While I made the puff pastry shells for this lunch, you can easily make the shells and store them on a cookie sheet, and just reheat the shells before serving. I am really happy with this chowder and its versatility.