This will give you some insight as to why I don't love to bake….
I tried, for the second time, to bake this flourless, buttery Chocolate Cassis Torte. I was convinced, and still am, that there is something fundamentally wrong with the recipe. I followed the recipe ingredients and instructions to the letter, but when the batter looked thin, I decided to start again. Now, out of eggs and a quick run to the store for more eggs, I started again.
This time I fell back on the age old sugar and egg yolks beaten until a light lemon color, then added the powdered cocoa, then beat the egg whites until they formed soft peaks. Next, melted the butter and chocolate, cooled slightly and then combined with the eggs and cocoa. It looked great, the right consistency.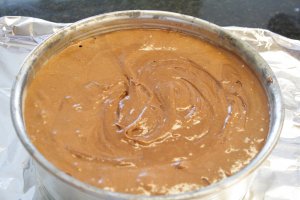 Baked as directed, 40 minutes.  It came out of the oven perfectly. And as expected, and totally normal, the cake began to sink in the center. All is still good. Again, as directed, I allowed the cake to cool for 30 minutes, then made the chocolate ganache.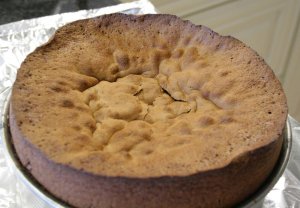 I started to drizzle the ganache on top of the cake and that's when the dam broke! I had rivulets of chocolate running through the cracks in the cake, all over and down my beautiful white pedestal cake stand, without a hope of damming up the chocolate.
After spreading like some kind of goo all over my counter, I finally managed to get it back onto to cookie sheet, where it still sits! As you can see, we have been taking spoons full from the delicious disaster and we're about halfway through.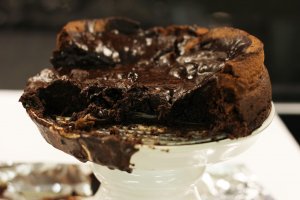 I have finally figured out what was wrong. Nowhere did any recipe indicate that the tort must be refrigerated for at least an hour or two, and only then can the room temperature ganache be drizzled on top the of the torte. And as soon as this is done, you must refrigerate again, unless you serve the cake immediately.
I did manage to salvage a serving or two of the dessert and I suspect that it would look very much like the plate below.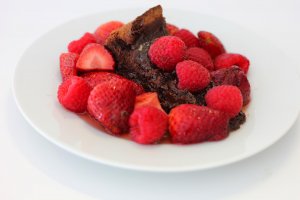 The flavors certainly did not suffer from the disaster, but now I know!