Just in the course of normal correspondence, one of our friends mentioned that they are still entertaining 'under the tent'. These friends are in Toronto, it is winter, so it really peaked my interest. So I said tell me more!
Much to my surprise, they have been entertaining friends, covid friendly, and only a couple at a time, in their backyard, literally under a tent.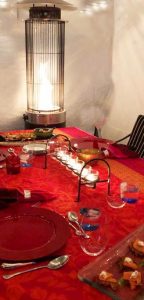 And so have their friends.
I wondered if we would have done the same at our condo, under a tent, but, no, propane is not allowed, although electric heaters are. Just wondering.
Apparently it all started with trying to extend the outdoor experience, then it evolved into 'safe' entertaining, and then just doing it for the fun of it.
It is not a huge expense and you can make it an extension of your home. Urns, lights, hanging baskets of pine boughs, hanging ornaments (more Christmas) beautiful table settings…my friend tells me that she even spread an electric blanket over their wrought iron table and under the tablecloth to make it warmer.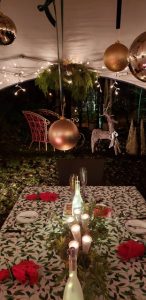 Dress code appears to be boots (the floor does not have an electric blanket) a puffy coat, no gloves. In fact, probably not even a puffy coat as the heaters warm the tent to a nice and cozy temperature even when one side of the tent is open. You can watch the stars, or more twinkly lights, as the case may be.
Just drinks or dinner, both appear to be fine, although 2-3 hours is the max because no matter how cozy, even with a couple of glasses of wine, it does get cold.
My friend has done both, here's her menu for a dinner party with a warm cozy feel. She served Osso Bucco, so I thought I would include my version, because she's right, it is ideal for a warm, cozy kind of dinner.
Appetizer
Goat Cheese Spread (Shmear)
Smoked Salmon on Latkes
Mini Mushroom and Fortina Pizzettes
Sausage Rolls
Soup
Straciatella Soup
Main
Osso Bucco
Garlic Mashed Potatoes
Grilled Broccoli
Dessert
Pantone Bread Pudding
So why were we down south when this sounds like so much fun and a great dinner! Maybe we'll be treated when we get back in the spring and she'll decorate with daffodils instead of pine boughs.
If you have the space, what a creative way to continue to keep the patio season open and at the same time, entertain safely.