Someone recently said to me, well it's all well and good to have all these recipes on inspiredcuisine.ca, but what if I wanted to use something from my fridge or pantry and didn't have the time to browse the entire sight for a recipe?
If you are thinking the same thing, just try the Search bar on the Recipe Page. Try typing in the name of the ingredient(s) that you already have on hand and the search funcion will  find recipes using that ingredient.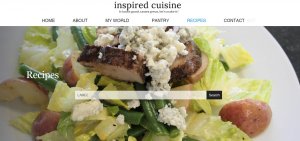 Not to sound like I have re-invented the wheel, search functions are pretty common, but I just wanted to draw your attention to the option. Fortunately, the cook book app that I use to create my recipes for publication allows me to tag the recipes with a number of search fields which allow you to look beyond the categories that I have set up.
So, by all means, look in your fridge or pantry but you may also want to search for recipes from your native land or for a cuisine that you really enjoy. Are you Bristish, German, Indian, Irish, Canadian, American? Search for your country of origin, and you will find recipes from these countries, or do you like French or Italian or Indian food? I am pretty meticulous about the origin of foods, and I am fairly diverse in cooking so you may find one or more dishes that fit the criteria that you entered.