This is a Buttonwood Tree…it is one tree with lots of meandering roots to form this incredible shade tree on the beach at MarVista on the key. It creates an idyllic setting for a slow lazy lunch, and we are told, it is magical with all the lights in the limbs of the tree for dinner. We will be trying this restaurant with friends for dinner in the New Year!
MarVista is a spot we go to periodically. I took this picture this past week, it is a lovely restaurant which has completely converted to pandemic rules. No indoor dining, tables outside well distanced, and wow, what a view.
Food is casual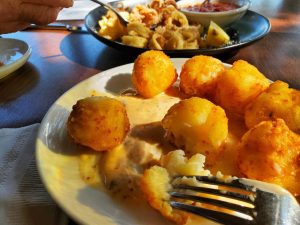 , we especially love their 'tater tots', home made, cheese filled and fried, and their calamari. Not every mouthful can be well balanced and I did not cook.
Traditions and routines develop down here. They are largely dictated by your day and where you are at lunch time, I am after all, starving if we are on the road at noon! These are a couple of hours whiled away after working hard (at grocery shopping, hardware store stop ins, hair dressers and barbers) after all, these mundane duties must also be rewarded.
Ours is lunch at a nice spot somewhere close to where we are at noon on that particular day.