Food & Drink is a magazine that has been published by the LCBO for more than 25 years in Canada. It is free and is available through LCBO outlets (Liquor Control Board of Ontario). The LCBO is also the primary source for alcohol in Ontario. Their 25th Anniversary issue a few years ago is what started me on this dinner. It was filled with the best of entertaining ideas, menus, cocktails, hors d'oeuvres, all with incredible photos, and of course, the recipes.
While all issues are generally excellent and always a treat 6 times a year, this issue was really interesting. Most of the photos featured delectable food, entertaining ideas and wine and drink as usual, but so much so that the food and drink were the stars of the show, and the models holding the glasses, eating the food, sitting at tables or gathered around in groups were only secondary to the food. You saw people, all beautifully dressed, but mostly in the background or perhaps the photo included only their hands as the focus really was food and drink.
I was so intrigued with this issue that I wanted to try this myself, so since it was Christmas and I could talk friends into going along with the concept, I planned a meal with the style of food and drink presented in the 25th Anniversary Issue of Food & Drink.
It was just a dinner for four, but I treated it as if it was a dinner for fourteen.
Our table ware was not exceptional, but it was pretty with an arrangement of freesia, white roses and peonies, white china, crystal and shiny flatware. All this, with a gold charger at each place setting, because it was Christmas.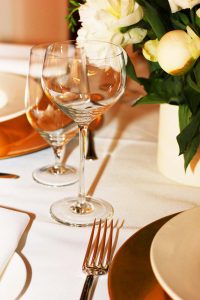 We started our dinner party with a trio of hors d'oeuvres, Smoked Salmon on Pumpernickel, Bacon Jam and Brie on baguette and Prosciutto on Figs. All with a glass of cheer.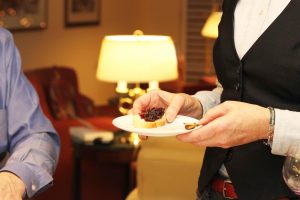 Our appetizer was Love Apple Soup, one my very favorite soups in the whole world.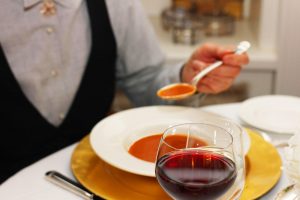 Then on to Rolled Stuffed Leg of Lamb with Roasted Root Vegetables and Port Wine Sauce.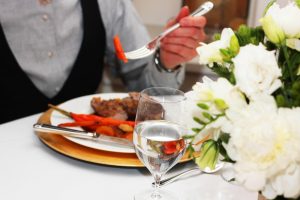 This dinner was from Christmas, 2018 when the world was still pretty normal.
As I remember, dinner was very good and this event was my first real life photo session with people! It could use improvement, perhaps I will try again. It was interesting to shoot, although a bit difficult as I still needed to get dinner to the table and be social and play photographer, all at the same time.  But the concept is interesting. I like concepts that are interesting and Food & Wine has been a source of inspiration to me many times. We'll see what ideas I get from the magazine this year, it may be another photo shoot party and more food and drink!