Four of us recently got together to share a casual meal in a great backyard setting. We started on the deck with a variety of nibbles, some hot, some cold, all served on an array of colorful plates and cute little bowls. My sister-in-law  Anne is a collector of beautifully hand painted dishes, platters, bowls, jugs and just about any vessel that is meant to hold food and drink. We used to get together and do these kind of casual dinner parties many years ago and I'd forgotten how much fun it can be. We generally brought something new to the party, whether we made it together or brought it along. It certainly promotes variety, and takes some of the stress out of entertaining. What can be better than sharing a meal with family and friends?
Hors d'Oeuvres
Salsa and Chips
Cheese Straws
Baked Garlic with Rosemary and Roquefort
Chicken Liver Mouse (modified by Anne)
Mini Skewered Chicken Bites
Main
Steamed Fresh Asparagus
with
Salad
Endive, Pear and Roquefort Salad with a Raspberry Red Wine Vinaigrette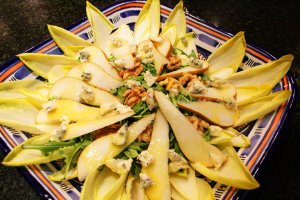 Dessert
Mixed Berry Clafouti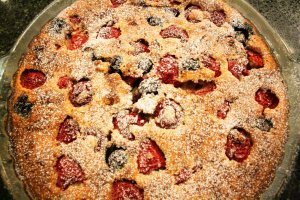 Looking at everything that was on the menu, you would think that we were a party of 8 rather than 4, but, we got through it all with very little left over. This is a great way to spend a few hours laughing, telling stories, being outdoors again and getting away from the day to day events of today.