This is the current re-incarnation of Hy's Steak House.
We have seen two other Hy's locations in Toronto over the years. The first was on Richmond at Sheppard Street, just down the street from Sherlock's on Sheppard, which was owned by Hy's.  Sherlock's was also located on the main level of our office building. The second Hy's location was on Adelaide Street.
Why write about Hy's?
Well, back in the day, both Hy's and Sherlock's were places we would gather with friends and business associates. Hy's was more of a dinner place.  Before we were married, my husband I would go there more than once a month and have the chateaubriand for two, garlic bread, a side and a bottle of Cote de Beaune Village for about $100.00. Like I say, this was back in the day. Hy's also serves, to this day, an off-menu lunch special called the Rare Dunkin'. This is the corner piece this post.
When Hy's moved to Adelaide Street in Toronto, it became our go to place after business meetings at BCE Place with our financial adviser. These meetings usually happened a couple of time a year.  Rare Dunkin' was still on the 'off-menu' menu and continued to be until they closed at that location. Even though we only went there a couple times of year, the hostess at the lounge would recognize us and would anticipate our order, always Rare Dunkin' and a glass (or two) of Pinot Noir. Amazing! The last time we were at the Adelaide location, she told us that they were about to close and were to start their renovations at  their new Bay Street location.
And then Covid arrived.
This obviously delayed our visit to their new location, but we did go for a light dinner recently. The only décor item preserved from the old Hy's is the painting of the 'nude lady', she made the transition. This will mean something to others who have been at Hy's.
But, I did say that Rare Dunkin' was the corner piece to this post. Actually this is just one of the dishes that have become a constant in my repertoire of recipes. Rare Dunkin' comes from Hy's, but a whole host of other dishes come from Sherlock's. Sherlock's was convenient and our true gathering place after office hours, which often went past 6 and sometimes 7pm. We solved many business problems sitting in the lounge, had lots of laughs and formed long standing relationships with our peers.
Moving on….
We also went to lunch at Sherlock's periodically. They had a daily prime rib lunch in the basement dining room. This was a slice of rare prime rib, served on top of a slice of rye bread, a ladle of Au Jus, a wedge of Romaine and a side of what I have dubbed, Sherlock's Beans.  All for $5.00, which increased annually but the last price I remember was still under $10.00.
Aside of the prime rib lunch, Sherlock's had a lot of good food. And unlike Hy's, we mostly went to Sherlock's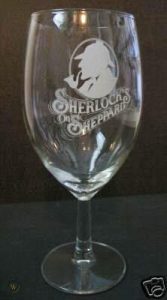 for business lunches (the basement was with business associates and friends). Two favorites come to mind. One was the Corned Beef Hash with Béarnaise Sauce. This seemed a favorite with everyone, clients included. The most heavenly hash, with a poached egg on top and drowned in Béarnaise Sauce. I have recreated this recipe as well and while not quite the same, it's pretty darned good.
The other lunch time favorite was Sherlock's Yorkshire Tidbits.  Sherlock's served this with tenderloin tips in a giant Yorkshire Pudding. My version is much the same, and I too have made it with tenderloin tips, although these are not easy to find. Most butchers will incorporate these off cuts from a beef tenderloin into beef kabobs. When I find it, I always make Tidbits. If not, then YorkshireTidbits are definitely on the menu with left over roast beef. I usually serve it with a few boiled potatoes tossed in butter and chopped parsley. Oh so good!
So, it seems that Hy's has come full circle, almost back to it's original location. In fact, their current location is two doors down from our third downtown office location. Three moves for Hy's and three downtown moves for our office. Our office started on Bay Street, then moved to Sheppard Street, then back to Bay street, only two doors away from the current location of Hy's. Nothing momentous, just funny how things sometimes work out.
I am told the the off-menu Rare Dunkin' (now known as a roast beef dip) is still on the off-menu.
Worth a try if you're downtown and feel like going to a well appointed business haunt.
Memories…
Just a final note, the image in this post is not mine, it comes from Hy's website.